Newest, beautiful, single women now added for week of Wednesday, 29 March, 2023 - Tuesday, 4 April, 2023
Your opportunities here are truly worldwide. Explore our site deeply to see how you can realize that!
Gifts to Give to a Costa Rican Woman on Valentine's Day
Since Valentine's Day is fast approaching, it shouldn't be a surprise that there is a surge of flowers and chocolates being sold on the market.
On the chance that your girlfriend is from Costa Rica, you'll be relieved to know that they celebrate Valentine's Day the same way most countries do. They go out for dinner, surprise each other's partner, watch a movie, and so on. In fact, they call it El dia Del Amor y la Amistad, which translates to the Day of Love and Friendship.
Standard Valentine's traditions apply. From Valentine's flowers to chocolates and romantic letters, couples make the same old gestures and surprises that everyone else does on such a special day.
Of course, there's the grand gestures here and there, and some people are bound to think outside the box to be different. Still, Valentine's Day is meant for love and it doesn't just limit itself to lovers. It's for friends and family as well.
But that's not why you're here. You want to know what gift to give to your Costa Rican girlfriend, right? Have no fear! Here is a list of presents Costa Rican women will love receiving on Valentine's Day.
Teddy Bears
Pro tip: Give her a big one. There are some women who prefer small ones so they can put it on their desks at home, but giving her a giant teddy bear is better. Only because there's the bonus of getting to see her walk around the mall or in public while carrying your lovely gift with delight.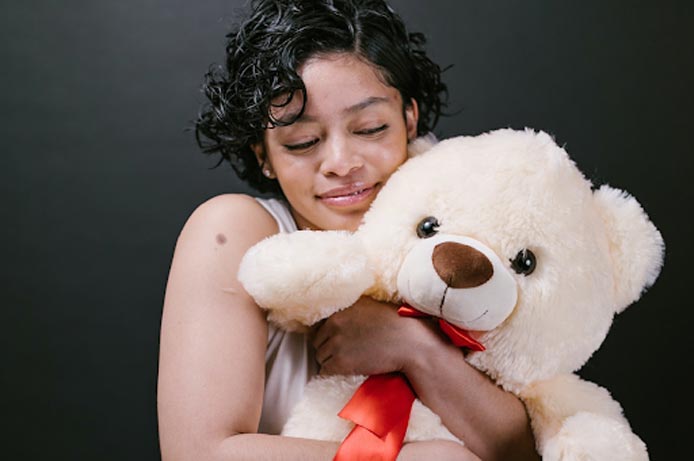 Luckily, these things are being sold abundantly in almost any establishment you see. They also come in different colors and sizes for you to choose from. You can buy them with a card to write a simple message or even tuck a rose in-between the teddy bear's arms before you give it to her.
Jewelry
This will depend if the lady loves accessories or not. But most of them do, which means you can easily buy a pretty (and a little expensive) diamond necklace for her.
Present whatever jewelry you bought for her during your Valentine's date, whether you plan on having a picnic or a candlelit dinner. Then proceed to put it around her neck yourself. This gesture will definitely give you some bonus points.
Perfume
If you know what scent she likes, then buy her a classy and expensive perfume. Make sure the scent is actually something she's okay with. She probably has been telling you about a certain perfume she absolutely loves, so take that as your clue and go from there.
Luckily, there is also an abundance of these things being sold on Valentine's Day, so you will have plenty of options and opportunities to choose from. They might get a bit too expensive on account of the holiday itself, though. It's best if you buy one while it's still early and have it personally gift-wrapped before February comes.
Or if you want to give her more than just a bottle, then how about a gift set? There are perfumes sold in tiny bottles, all neatly wrapped in a box that you could buy. That way, your girlfriend could choose to use a different scent each day, depending on her mood.
Make-up Set or Skincare
We all know women love this stuff. Well, more on the skincare side rather than the make-up. If your lady is the type to get excited over the prospect of more skincare and/or make-up products, do your research.
Know that this may be a double-edged sword. If done right, she will greatly admire you for your effort and expertise (wink, wink), but if done wrong, the worst you're going to get is a forced smile and an unused set of skincare products.
See, the thing about these products is that it will depend on the lady's skin type. You can't just buy these items willy-nilly. It's best if you either do your research (which will take some time and effort) or ask her what she needs or wants for her cosmetics.
Then once she gives you an answer, go shopping for said things and have them gift wrapped for her.
For make-up, it's smart to just buy her a lipstick or lipgloss set. Bring her a wide variety of lip products that she can choose from.
Flowers
You can never go wrong with flowers on Valentine's Day.
This is probably the most, if not the second, most abundant item being sold on this particular holiday. The other one would be chocolates, of course. Everywhere you go, there are roses and other flowers being strung in lovely bouquets for couples to buy.
Get her a bouquet of flowers (pick red roses) and add in some chocolate boxes while you're at it. It's one of the most classic gifts for this holiday, but it's not any less endearing to get for your special someone.
Flower suggestions for your bouquet:
White roses - they stand for purity, innocence, and loyalty.

Red camellias - they symbolize love, passion, and a deep desire.

Pale or deep red carnations - both shades of red convey love in different senses.

Tulips - they mean perfection.
Don't forget to give these to her as soon as you two meet up for your Valentine's date. You should also know that this kind of gift – including the chocolates – are expected. So remember to pull out all the stops because this is the one day that couples go all out.
Go for Unique Date Ideas
Candlelit dinners and picnics are nice, but if you would rather go for ideas that require you to think outside the box, then try some more thrilling dates.
Luckily, most foreign women prefer to try new experiences rather than going for what's common. While it's nice to go on normal dates, it also brings a fresh new perspective in the relationship if you both try something new together.
So why not try your hand at some of them? Maybe go cliff-diving, bungee-jumping, wine-tasting, join a trapeze class, travel to a destination you two have never been to, and so on.
The possibilities are endless. There are so many things to try on this planet. The more you experience something new together, the better the bond forms.
Newest, beautiful, single women now added for week of Wednesday, 29 March, 2023 - Tuesday, 4 April, 2023
Your opportunities here are truly worldwide. Explore our site deeply to see how you can realize that!